I guess...well, first with the big news -- shall we? I am blown away, humbled, and crazy excited to announce that I am now a
Nikki Sivils
design team member. There are not words to properly and adequately describe how I'm feeling. I'll just stick with EXCITED!
On January 4, 2011 I started this blog because I decided I was going to get out there with the online scrapping world. I'd been scrapbooking for 9+ years and I knew that this was something I wanted to be a part of. I'd been following scrappers like Susan Weinroth, Kelly Purkey, Becky Higgins, etc and I wanted to join in.
At first, I set meager goals -- 104 pages in 2011 and to blog regularly. I also wanted to get on some kind of design team and get published anywhere by the end of 2011. Within weeks, I was on my first design team (My Sketch World) and had a publication request from Scrapbook Trends. I was BLOWN.AWAY. Seriously on top of the world. My first submission had been picked up -- I couldn't believe it.
As the year went on, I set slightly loftier goals and reached new spots. I was on Design Teams for sketch sites, stores and kit clubs. I had 14 pages picked up for publication in 10 months by 2 different print publications. Not to mention that my albums were much, much heavier with 323 pages created in 2011.
When 2011 came to a close -- I knew I wanted to see, for me, if I could beat 323 pages -- just for fun, no pressure. Just to keep creating how I do and see what would come. I also set a lofty goal - one I thought I wouldn't *really* get at this year. Get on a manufacturer design team. I thought I would be so lucky in 2013 if I kept working hard honing my skills and defining my style.
I never, ever thought that January 9, 2012 would be when I would get the phone call -- the one where my goals became reality. So, I am thrilled and excited and honored and humbled and...more -- to be invited to join amazing people to design with other wonderful scrappers. I can't wait to share it all here...and hope you think it's worth looking at.
Today, I have a page to share -- a fabulous sketch from Pretty Little Studio (whose products I am shamelessly addicted to. vintage images and bright colors?! UM, HELLO!!) using photos taken of two cuties over the holidays.
And, used on that page?! My brand new to me, long awaited TYPEWRITER. I've been wanting this for a very, very long time and I would not settle. Unfortunately, it came broken, so I have to use it as is ... but it'll do. I don't need or want perfection!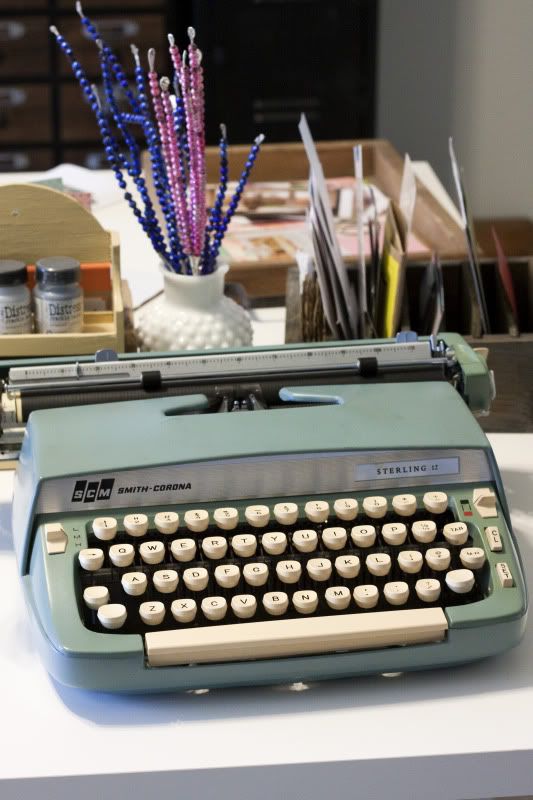 AND, now...for the winner of the Ella Publishing TAKE TWELVE winner!
Please email me ASAP at aj_mcgarvey AT msn DOT com so I can get you the info so you can get started TOMORROW!!!!!