Hello scrappy friends! Sorry for my departure from the blog, I've had a rough few days. Last Friday, October 7, my beloved grandma passed away. There were a couple of days that were very sad, and then a few days when I went to my hometown that were even sadder. Now I'm back to share my pages and projects with you!
I knew when I got my hands on Echo Park's Apothecary Emporium I needed to make something fun, yet special! WHAT I would make didn't come to me for quite a few days, however. I toyed with the idea of a shadow box or 7 gypsies tray. It occurred to me to make a paper wreath. I finally settled on a mini banner.
What's a mini banner? In this case it's not a banner with a base of chipboard and it's really not big enough to hang on my mantle. (Due to the nature of the holiday and all of the letters used, it wouldn't look weird on my mantle, but that isn't the point!) I have a mirror in my entry way that I thought would really benefit from a little holiday cheer. Thus, the mini banner was born!
For this particular banner (Happy Halloween!) I cut 9 pieces of patterned paper (relying heavily on my favorite sheet, Spider webs!) in strips that were 1.75 inches by 3 inches long. I also punched out 6 circles with one of my circle punches.
The rest is as simple as can be! I used a border punch or cut the bottom of the paper. I also added a punched circle or sticker to the strip before adhering the letters to spell Happy Halloween. When they were all complete I scored the tops of the strips so I could glue them to the bakers twine!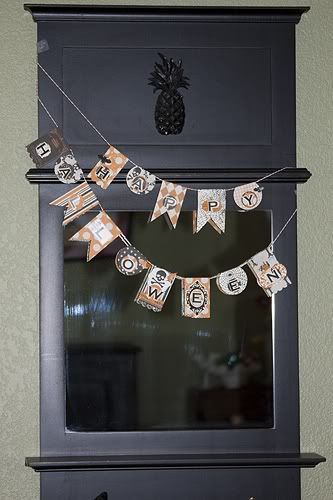 Once the two strands were tied together they were ready to hang! Nothing new, nothing complicated just simple and fun -- not to mention FESTIVE in a matter of minutes!
Apothecary Emporium is definitely a fun, festive and spooky holiday perfect for pages or altered items! All of the fun elements are available in the
your scrapbook stash store!