Hey there!
The good news is...we are in escrow on our California house! We should be able to close on 12-30, so by 2012 I will only own one home. That's exciting! It's sad though, because I'm not happy about leaving southern California behind. (Said by someone who is FREEZING right now...I have to keep rubbing my hands together to warm them up!)
Speaking of cold...and the snow we had a few weeks back. Our dog, Holly
Golightly
, is only 20 months old. So, she'd never seen snow before! Watching her outside in it was nothing short of comedy! So, I did a page about it with the December Paper Bakery add-on kit! (I even used my silhouette!!)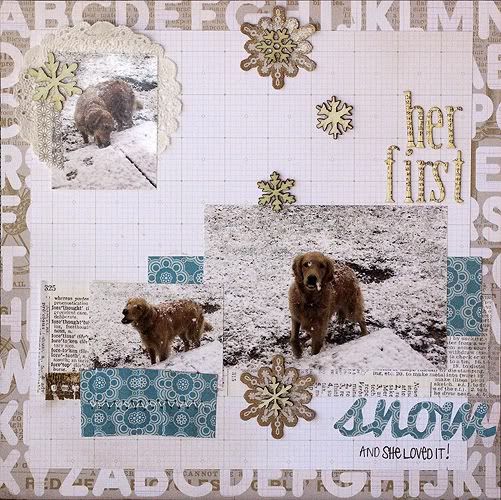 Now, just a quick peek into my scrapbook space. We moved into this house and we knew that we would use the formal living room for my space. We have a bonus room and a basement, as well -- but this seemed the most connected to the family space. It's right inside the front door and has french doors connecting to the family room. We will also put french doors on the entryway to the foyer...probably this spring once things have died down a bit!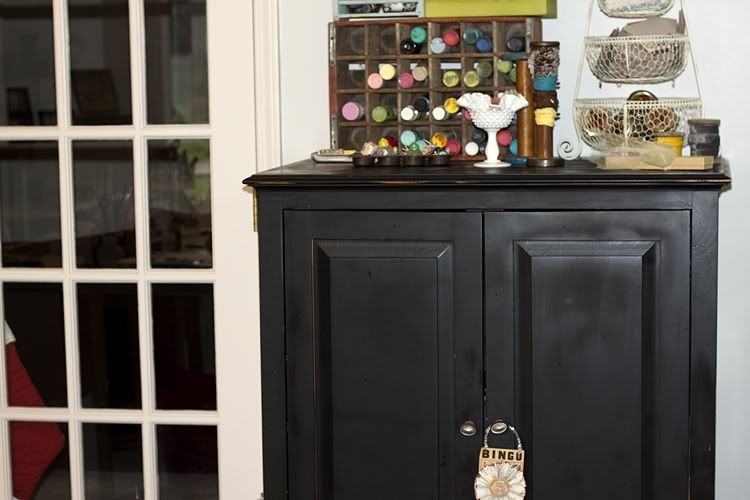 an old TV cabinet. to the left, the french doors to the family room. This houses all of my

cardstock

and a few small chipboard albums.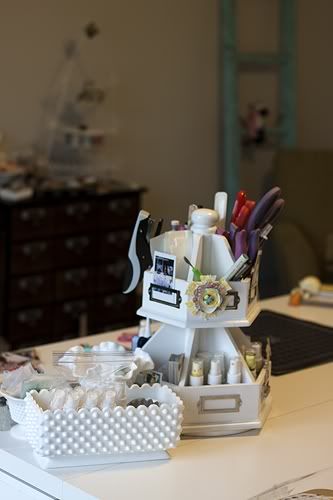 On my working area -- houses tools, mist, labels, etc.
In case you couldn't tell, I'm going for a bit of an eclectic mix. I've got light grey walls and some black furniture, some white with mostly vintage accents. The accents may be vintage but they aren't floral or shabby chic. Totally fun, totally me.
Now, another little giveaway! Just small -- nothing huge. Again -- MUST be a follower, leave a nice comment -- I will draw on Monday!
Off to make a page or two until I make cupcakes with the boys!