I have this thing, and I am sure most mothers do, where you love your kids SOOOO much that you want to squish them, or kiss them all over or just eat.them.up. There does get to be a certain age where this passes, though the love certainly doesn't diminish.
Anyway. When I look at this photo of Harrison, I just want to squish his face!!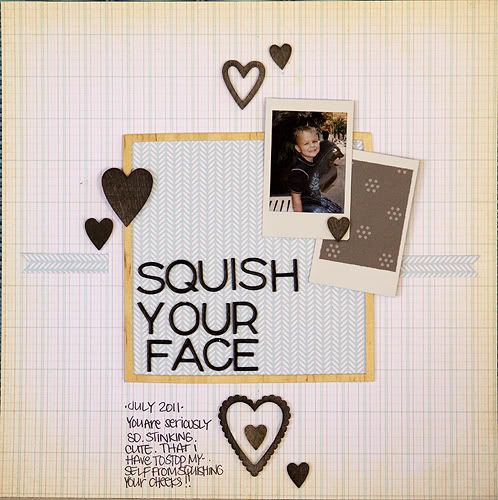 This is one of those layouts that I just love. I don't know if it's the combo of colors, the photo or what. I love it. It's based on the 07.10 Studio Calico Sunday sketch (though I followed Tina's take a little more closely!) and using the July SC kit, Mind the Gap.
Now, for the giveaway. I have reached my amended goal for pages in 2011! When I started my new scrapping way of life in January I set a goal of 104 pages this year. That was 2 for every week. I blew through that in April, I think. Now, I've gone past the revised goal of 208! Actually, I am much closer to 220 by now. (Can I make it to 312?! We'll see!!)
Anyway, to celebrate, I'd like to give away this brand new doily stamp set from Studio Calico:
I'm not much of a stamper, but I do use this one! To enter, you MUST be a follower of this blog. Leave a comment and I will choose a winner on Monday, 25! AND, check back tomorrow for another giveaway!!